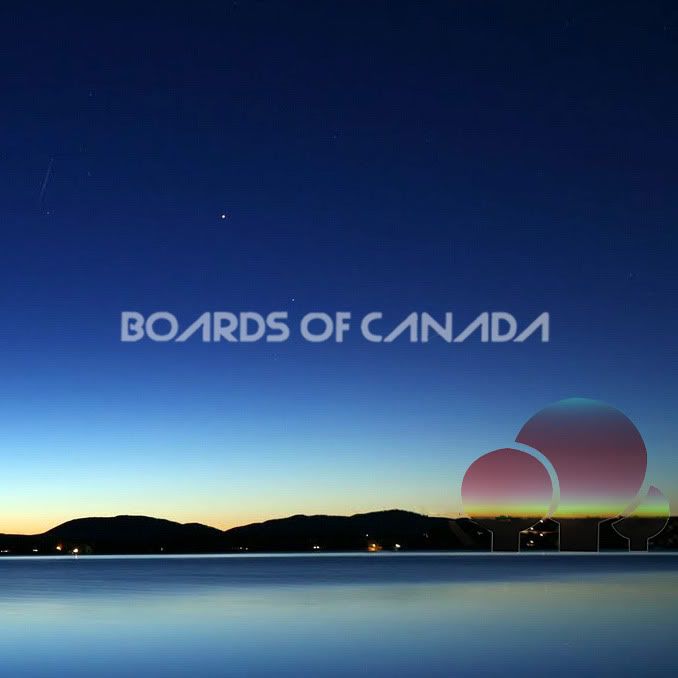 Presented here, in two volumes, is the very best of Boards of Canada: the ever-elusive Scottish duo with a penchant for vintage public television broadcast themes, nature sounds, kids, mathematics and sick ass beats. To fans of downtempo and electronic music, their debut full length
Music Has the Right to Children
is easily one of the most beloved albums in recent memory.
Geogaddi
is a challenging and often rather evil sounding second album, but every bit as appreciated as its predecessor.
The Campfire Headphase
(reportedly about what happens when you take acid on a camping trip) is a step in a considerably lighter, more peaceful direction and contains some of their best work yet. These tracks have been hand picked from a catalogue of those 3 LPs and 4 additional EPs, all released between 1995 and 2006.
If you've never listened to Boards before, the first thing you'll notice is the lovely weather. These kids are all about atmosphere. Sometimes it's good old nostalgia; songs like "Aquarius" and "Roygbiv" are often said to be reminiscent of a happy childhood. Other times it's downright otherworldly; "Oirectine" feels like a neon purple planet in far off solar system where you can't tell whether you weigh a ton or are as light as a feather. "Gyroscope" feels thick and unnatural, trudging you through the mud by the counting of a possessed child. With "Dayvan Cowboy," you're back on Earth
soaring down through the clouds and into a clear blue sea
...and it is fucking epic.
Probably one of the greatest things about BoC, however, is the effortless way they take you on these journeys-- the skill with which they advance a piece from simple beginning to epic end, adding rhythm on top of rhythm, melody on top of melody (Happy Cycling!) What could easily become chaos stays well organized and sharp in its execution. This music has serious attitude and is still cool as a cucumber.
All that said, I find this great music to study to. So, in the spirit of a new semester, I invite you to enjoy. And please, if you dig the music, support the artists and
buy the albums
!
CD I
1 Peacock Tail
2 Seeya Later
3 1969
4 Aquarius
5 Oirectine
6 Everything You Do is a Balloon
7 Oscar See Through Red Eye
8 Turquoise Hexagon Sun
9 The Color of Fire
10 In A Beautiful Place Out in The Country
CD II
1 Skyliner
2 Nlogax
3 Roygbiv
4 The Beach At Redpoint
5 Olson
6 Dayvan Cowboy
7 Kid For Today
8 Gyroscope
9 Corsair
10 Happy Cycling
Link:
http://www.mediafire.com/?wzdawnu4cvdzowv